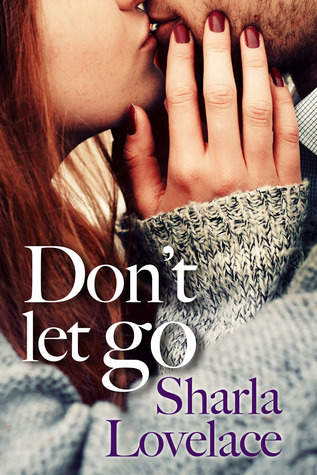 In Don't Let Go by Sharla Lovelace, Jules has never truly been able to let go or forget Noah. He was her "first everything". At the age of 17, one mistake changed their lives irrevocably...leaving Jules feeling very much alone. She has tried to move on - she's been married, had a daughter, and is now divorced. Now, 26 years later she is still living the life her mother chose for her, and she's never truly happy.
After that mistake, Noah left, finished high school else where, eventually becoming a Navy SEAL. Suddenly Noah is home though, it seems like he's planning to stay, and he's brought someone with him.
Seeing Noah again stirs up not only more turmoil in Jules' life, but it brings to the surface all the feelings she's tried so hard to bury and move on from over the years. It's not just her heart and body Noah is stirring up again, it's the past. The regrets of the past and the secrets could change everything for Jules.
Jules is not the only one with feelings. Noah still has them too, as much as he's tried to be in control and push them away, as soon as he and Jules see each other again everything surges to the surface again. But with everything between them, the years gone by, and current happenings, is there any second chance for them? Jules' heart has always belonged to Noah...can she risk it all again and follow her dreams this time?
Don't Let Go is a powerful, riveting second chance romance. With very realistic characters and life events, Sharla makes the plot and the people believable. Full of emotional highs and lows, Jules and Noah's story is one I could not put down. Both of the characters are mature with a lot of life experience and I love this in Don't Let Go, because there is so much more at stake than just Jules and Noah's relationship. Jules is very real. She's struggling with a lot and getting through the best she can. Don't Let Go is written from Jules' POV, and very quickly I was sucked into her life. I love the way her interactions play out with various secondary characters, from her daughter ("This was why wild animals sometimes eat their young.") to Noah's father, who makes her life miserable. I loved seeing Jules grow in so many ways...and Noah's arrival seemed to be the spark that ignited this. Noah likes to be in control, and his love for Jules has never died. A powerful combination for someone dealing with so much history...especially when neither of them had much control over it.
I loved the flashbacks to their teenage years that Sharla inserts in just the right places in Don't Let Go. They really show how much these two loved each other, and at the same time some of them will rip your heart out.
There are a lot of necessary secondary characters in Don't Let Go that help bring the story to life and add even more realism with life like situations. The family dynamics explored in Don't Let Go are full of emotions also.
Don't Let Go is fast paced, easy to read and hard to put down! Sharla expertly weaves humor into the serious, making it an entertaining, heart string pulling read. I'd highly recommend this to all romance readers.
5/5 stars