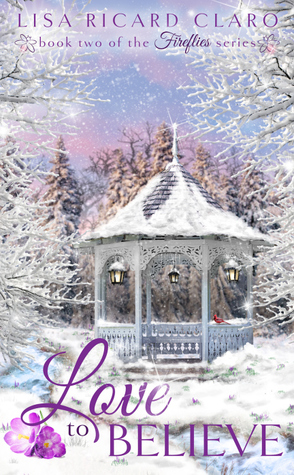 A woman in a man's world…

CPA Rebecca Walker wields a hammer and saw with skill, but it's like fighting tooth and nail to prove to her chauvinistic father that she's capable of managing the family construction business. Romance is a luxury Rebecca can't afford.

A man with secrets…

Thanks to his past, romance isn't in Sean Kinkaid's future, so when Rebecca proposes 'friends with benefits,' Sean agrees. It's the perfect scenario until love sneaks in—and Sean's secrets tear them apart.

Believe…

But Rebecca has a secret too, one she fears Sean will never accept. It will take intervention from an unlikely source to convince these two lovers they have the one thing neither of them ever expected to find…a love to believe.
Rebecca works hard at her family's business. She's currently managing it, and managing it well, even if her father would never admit it. Work comes first right now, above all else, even her personal life. Sean is a lawyer who blames himself for past occurrences. His sense of guilt is almost overwhelming at times and he is still punishing himself. Convinced he'll never have another long term relationship, that a committed relationship is not for him, he'd rather have a friend with benefits. Rebecca is sure that's what she wants too. Her current boyfriend wants so much more than she is willing to or can give - hence their break up. Connected through family, Rebecca and Sean have a friendly, fun, light friendship filled with teasing, great banter, and a lot of sexual innuendo.
When Rebecca and Sean decide to have a no strings attached, very physical relationship, what can go wrong? When they both enter into their agreement, the stirrings and feelings are already there even if they're pushed deep down. Is this really what they want? When the unexpected happens, will it work or hurt?
I thoroughly enjoyed Love to Believe! Filled with heat, all kinds of relationships from family, to friend to foe, Love to Believe enchanted me and Lisa kept me intrigued through out. I really liked Sean and Rebecca. Their relationship and feelings were all over the place, and they felt so real. They were fun, emotional, and a great hero and heroine to get to know. I had to keep reading to see how, or even if, they'd get a happy ending. The interactions between them, misunderstandings and all were realistic and brought these characters vividly to life. I had a great time being part of their journey!
The characters from the first Fireflies book (Love Built to Last) are very prominent in Love to Believe, and I liked the way they flowed into this story. I would highly recommend reading Love Built to Last before reading Love to Believe to get the whole picture and experience!
Lisa filled Love to Believe with hope, a little bit of magic, animals, the expected and the unexpected. Family and family relationships play a big role in Love to Believe, both alive and dead, and Lisa did this in a believable, inspiring way.
Love to Believe is an exhilarating, emotional, entertaining read that flows fast and smooth. I can't wait to read the next book in this series! I'd highly recommend Love to Believe to any romance reader!!
5/5 Sensational Stars!!