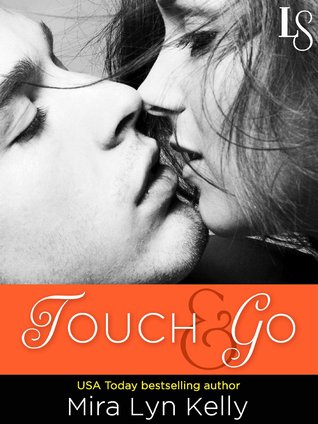 In

Touch and Go (Dare to Love #2) by Mira Lyn Kelly

, Ava and Sam have been best friends since they were children. Never more than friends, even though Ava hides her true feelings deep inside. Ava has never met a man to settle down with yet, and Sam has no intention of ever settling down.
When Ava needs a pretend boyfriend for a night, Sam steps up and plays the role. They both play the role so well, the hidden sparks between them suddenly flare to life. Even though they both want different things and have different beliefs about happily ever afters, they inadvertently give in to the chemistry ... but one night just isn't enough to get each other out of their systems. Keeping their new relationship secret and only about sex, they decide they can do that for a while then go back to how they were - before they realized what they can do to each other.
Expectedly, Ava is over whelmed with feelings and emotions that she won't talk to Sam about. When her secrets come tumbling out, Sam is caught off guard...and neither of them are happy. Because they've kept their new relationship quiet, neither has anyone else to talk to and they are not talking to each other about what really matters. Ava just wants to have some distance from Sam, cool down, forget her feelings and move on. But can she? Can a friendship ever be the same after they've taken it to the level they did? Will they have the courage to give it a chance and be more than friends?
Touch and Go is the second book in Mira's Dare to Love series, and having not read the first one I can say that you can read it alone with no difficulty. There are quite a few secondary characters, a tight group of friends, who all work in well with the plot but are on the periphery enough so that the focus is on Sam and Ava. There is drama and there is angst between Sam and Ava. At the same time for me there was also a lot of frustration with the characters, mainly surrounding their emotional maturity level and that they suddenly became friends with benefits, which is fine, but communication about anything else between them was lacking. Ava's big secret was a bit anti-climatic for me, she built it up so much in her head that I was disappointed in her big reveal. Sam had his issues and had an awful childhood. In this way, Mira really made me feel for Sam and understand a bit why he is how he is as a grown up. I liked reading about them as children, it did make me feel like I knew them better. And I loved how Ava's family were with him even as a child.
There is humor and great chemistry in Touch and Go, and two characters who are still finding their way. I'd recommend Touch and Go to romance readers who like younger adult characters.
3/5 stars