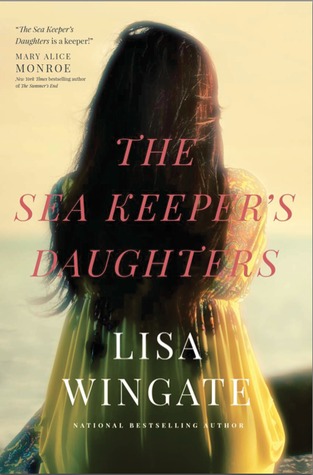 Book Blurb:
Wingate's third Carolina book follows the highly reviewed, The Prayer Box and The Story Keeper as well as related three novellas.
From modern-day Roanoke Island to the sweeping backdrop of North Carolina's Blue Ridge Mountains and Roosevelt's WPA folklore writers, past and present intertwine to create an unexpected destiny. . .
Restaurant owner Whitney Monroe is desperate to save her business from a hostile takeover. The inheritance of a decaying Gilded Age hotel on North Carolina's Outer Banks may provide just the ray of hope she needs. But things at The Excelsior are more complicated than they seem. Whitney's estranged stepfather is entrenched on the third floor, and the downstairs tenants are determined to save the historic building. Searching through years of stored family heirlooms may be Whitney's only hope of quick cash, but will the discovery of an old necklace and a depression-era love story change everything.
My Review:
The Sea Keeper's Daughters by Lisa Wingate is an intricate tale that weaves the past and present in a memorable way. When Whitney returns to the place of her childhood summers with the intention of cleaning The Excelsior out and selling it, she is completely unprepared for the journey she finds herself on. With a lot of turmoil in her life, Whitney is prepared to just sell and move on...but history just won't let her. The pieces of her family's history she finds surprised and intrigued her, and letting go of it all might not be as easy as she wants it to be.
I loved how Lisa brought the past to life in The Sea Keeper's Daughters - how history and old letters have a chance to change the present and the future. I liked how this made Whitney pause, think and really question what she was doing and why because I felt like Whitney started off in The Sea Keeper's Daughter with a very single minded focus. In the beginning I had a difficult time liking Whitney, but as the story grew and her character evolved it was really good to see the person she was growing into.
The characters in The Sea Keeper's Daughters all form a great mix. There is a great variety of conflict, tension, humor, warmth, caring and thought in The Sea Keeper's Daughters from all of them. It was interesting to get to know them all and then get to know them better as the story progressed. All of them are realistic and could be someone just down the street from you. They all had unique stories and together added a lot of dimension to the plot. The interactions Whitney has and her relationships with the other characters are all a little different. I really liked and could see the growth of relationships in The Sea Keeper's Daughters. At times intense and angsty, Whitney in particular grew and developed significantly.
I was intrigued to see what Whitney would end up doing, and the wrap up to The Sea Keeper's Daughters is unexpected and fulfilling.
The Sea Keeper's Daughters by Lisa Wingate is part of her Carolina series, but can easily be read as a stand alone as I did. A nice mix of historical and present day, I'd recommend The Sea Keeper's Daughters to any women's fiction reader.
4/5 stars