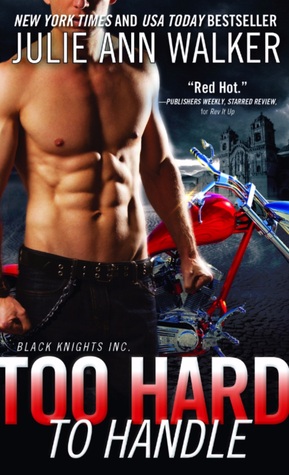 Book blurb:

New York Times and USA Today bestselling author Julie Ann Walker continues her red-hot Black Knights Inc. series in rough-and-tumble Peru

"The Man" is back
Dan "The Man" Currington is back in fighting form with a mission that takes him four thousand miles south of BKI headquarters, high in the Andes Mountains of Peru. He's hot on the trail of a rogue CIA agent selling classified government secrets to the highest bidder, when Penni DePaul arrives on the scene. Suddenly the stakes are higher, and keeping Penni safe becomes Dan's number one priority.

And this time she's ready
A lot has changed since former Secret Service Agent Penni DePaul last saw Dan. Now a civilian, she's excited about what the future might hold. But before she can grab onto that future with both hands, she has to tie up some loose ends-namely, Dan Currington, the man she just can't forget. And a secret that's going to change both their lives-if they can stay alive, that is.
My Review:
From Chicago to Peru and back again, Julie Ann Walker took me on another exhilarating journey in Too Hard To Handle.
Dan is a member of Black Knights Inc., a black ops group of alpha men. Penni is a former Secret Service Agent. A few months ago an op they were involved in together not only brought them extremely close, but the op also had devasting results. Ever since, neither Dan nor Penni have forgotten the other. Now Penni has gathered her courage and sought out Dan for some unfinished business. Little does she expect to find herself in Peru embroiled in another op with him, and more danger. To survive and complete the op, their lives are on the line yet again...and if they do, will the unfinished business be the end of them or just the start?
I liked the different settings in Too Hard to Handle. Not only was I in Peru, I was in Chicago as well, at the BKI compound I can picture so well thanks to Julie Ann's descriptiveness! The whole concept of BKI and the people who work there is fascinating and enthralling...because it seems so real, so dangerous, and so unexpected.
I liked Dan and Penni's story. I really liked Dan as a hero in Too Hard to Handle. He has had his fair share of struggles, and it was so nice to see how he's worked through things, how he handles what life has thrown at him, and the inner strength that seems to be innately part of him. I just really liked him, cared for him, and felt like I knew him. Penni took longer to grow on me. I didn't always like how she handled some things, the assumptions she makes, and the decisions she takes upon herself to make. However, having said that, they were difficult decisions to make, and there are complexities involved that don't make things easy for Dan and Penni.
Julie Ann Walker managed to totally surprise me with parts of this plot. I had no idea what was coming! I liked how she did this, without really giving any early hints so that I was just as taken off guard as the characters! I liked this unanticipated twist of the plot and subsequently the relationship of Dan and Penni.
The secondary characters in Too Hard to Handle mainly involve the other members of BKI, and I liked how they were woven in and present in the plot, but not overwhelmingly so. I would not recommend reading Too Hard to Handle as a stand alone. The other books in this series build on each other between the plots and the characters, and to have a good grasp of what is going on I'd recommend reading the series in order.
Julie Ann writes it all in Too Hard to Handle. With action, danger, suspense, alpha men, and romance, the intriguing plot threads tie up nicely together. Fast paced and difficult to put down, I'd recommend Too Hard to Handle to any romantic suspense reader.
4/5 stars