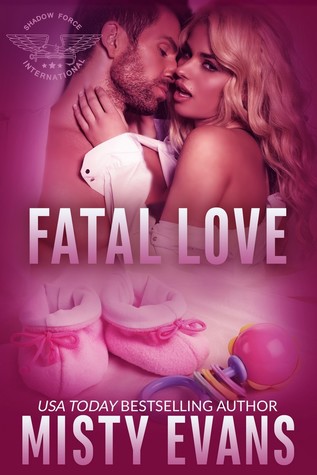 Book Blurb:
Girl or boy? Find out what Cal and Beatrice are having in this Shadow Force International Worlds novella! And meet Connor and Sabrina - two SFI members who must overcome their inner demons in order to find love in the middle of chaos.
Once upon a time, former Navy SEAL Callan Reese risked everything to protect his estranged wife from the enemies who wanted her dead. Now reunited and expecting their first child, Cal's past makes Beatrice a target once again.
When Beatrice is kidnapped by a desperate woman bent on revenge, Cal must put everything on the line in the most dangerous mission of his life to keep her and their unborn child alive.
Full of pulse-pounding intrigue and a whole lot of heart, FATAL LOVE is a passionate thriller that's sure to keep readers riveted from the first page to the last.
My Review:
In Fatal Love by Misty Evans, Cal and Beatrice are ready to welcome their baby into the world. Nothing goes as expected though, and this fast paced novella is packed with mystery, suspense, danger, hope and love.
I was quickly absorbed in Fatal Love. With a focus on Cal and Beatrice and the impending birth of their baby, the story of Sabrina and Connor is woven in seamlessly also. I liked the way they were made part of this!
Told from multiple POV's, Misty Evans made Fatal Love feel real, especially if you've been following this series. This novella is the perfect length for the story being told. I really enjoyed it and can't wait for the next Shadow Force International book!
I'd recommend reading the rest of the series prior to Fatal Love, and recommend them all to any romantic suspense reader!
4/5 stars