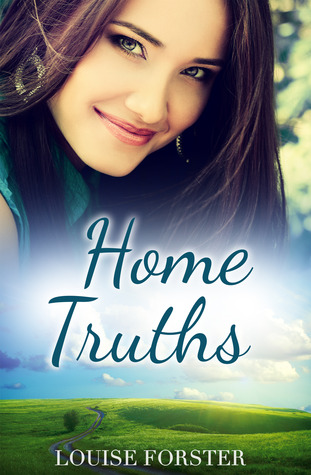 In Home Truths by Louise Forster, Jennifer has come to Tumble Creek, Australia from London for her beloved Uncle's funeral. From the moment she meets up with her sister and niece in Tumble Creek, things seem a bit off. There is mystery surrounding their Uncle's life, and more mysterious events happening in Tumble Creek. If something is going to happen, it will happen to Jennifer!!
There is a lot happening besides Uncle Bob's funeral, and Jennifer meets Calum, a handsome Australian who has her insides quivering. At first Calum is just helping her out, then he's keeping her safe and things quickly become hot and heavy between them. Despite the promise and beauty of Tumble Creek, especially compared to grey, dull London, Jennifer has no plans to stay. She has plans in London, and every intention of going back. When Tumble Creek starts to feel more like home, and her feelings towards Calum just keep growing, there is still trouble brewing and unsolved mysteries. Soon it all feels like too much and Jennifer starts to panic.
Will Jennifer ever uncover Uncle Bob's mysteries? Will Jennifer leave behind all she's found and the promise of Tumble Creek?
Home Truths is a fast paced, easy to read and follow book. It is entertaining with fun dialogue and some hilarious scenes that will have you laughing out loud, and wondering about those pink stilettos! Jennifer and Calum's romance may be quick, but at the same time Louise gives us a sense of realism with her character descriptions, their strengths and their weaknesses. Louise manages to keep you guessing just when you think you've figured out the mystery of Uncle Bob, with her multi-layered plot. The sub-plots in Home Truths added an extra bit of intrigue, even if for some of them I would have liked a little less unknown and more background.
There are a lot of family dynamics in Home Truths, and Louise writes these in well so that they give us the information we need but don't overwhelm and take away from the plot.
The people in Tumble Creek and the characteristics of the small town really give a lot of strength to Home Truths. It is the perfect setting for this story and Louise's descriptions of Tumble Creek will have you right there with everyone else.
Any romance reader that loves a small town setting, a bit of mystery and a hero/heroine that can really steam up your pages will enjoy Home Truths.
4/5 stars
Publication date : June 1, 2014