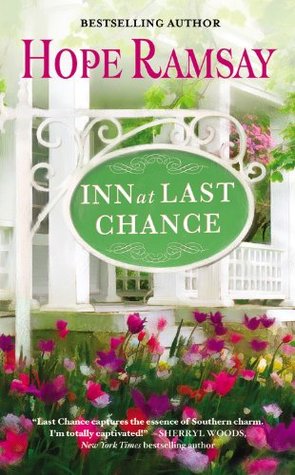 In In At Last Chance by Hope Ramsay, Jenny has given up on love and family and is pursing her other dream. She's purchased the old Raintree family home, renovating and bringing to life her dream of opening a Bed and Breakfast.
The appearance of her home's former owner, Gabe, on a dark, stormy night is completely unexpected. Gabe, a famous author, has decided he must have the home back...it's where he knows he can write again. He'll pay any price to get it back, but Jenny's not selling...and she's not letting him stay. That all changes though, when as a favor to the town and the town library, Gabe is now a guest in Jenny's not yet opened B & B.
Dealing with an unwanted guest is bad enough, but soon scary, unexpected things are happening in Jenny's new home. And it all seems to center around Gabe. Gabe, who Jenny thinks of more than she should. A surprising and conflicting attraction between Jenny and Gabe slowly grows, just as secrets and long forgotten memories of Gabe's start to surface. With all of his past suddenly haunting him at once, will Jenny and Gabe's chance at love survive?
Inn At Last Chance is part of a series and I would recommend reading the other books first. I didn't and I felt like I was missing a lot of background information, especially on Jenny. It was difficult to get a good grasp of her character with so many unknowns. That said, I did find Jenny to be brave and independent. I liked that she was a mature character with goals she was working hard to achieve. There was definitely more to Jenny than what first meets the eye! Gabe was a tortured hero with so many secrets and such a hidden past! Hope manages to draw this out through most of Inn At Last Chance, intriguing me and making me want to keep reading to find out exactly what was up with Gabe!
There are a lot of secondary characters, and I can tell by reading that many of them were introduced in previous books in this series. From meddling to irksome, Hope gives a real small town feeling to Inn At Last Chance.
If you enjoy small town romance with unexpected surprises you will enjoy Inn At Last Chance, but once again I'd recommend reading the other books in the series first if you want to feel like you know everyone!

3/5 stars