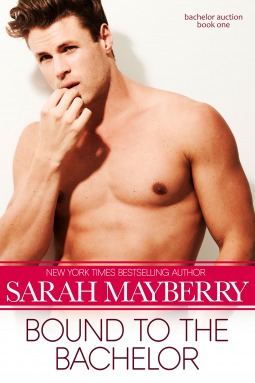 Book Blurb:
Your date with Marietta local Beau Bennett includes a day on the slopes at Big Sky Resort, complete with a sumptuous meal in the Resort's fanciest fine dining restaurant and door-to-door transport. Dig deep to secure the attentions of one of Montana's most eligible – and elusive – bachelors.
Lily Taylor knows Beau Bennett dislikes her, but that won't stop her from asking him to volunteer for the Bachelor Auction she's organized to help her friend Molly provide for her tragically injured son, Josh. If Beau's gorgeous face, piercing blue eyes and chiseled body inspires the women of Marietta to dig into their pockets for a good cause, then Lily will do whatever it takes to secure his participation.
Beau Bennett isn't sure how he wound up on the auction block being eyed up by hundreds of eager women, but he knows who to blame for it – Lily Taylor, the sexy, distracting, off-limits best friend of his kid sister. As far as he's concerned, the sooner this nightmare is over, the better.
The last thing either of them expects is for Lily to wind up bidding on – and winning – Beau, or that their date will lead to Beau stepping in to save Lily when her past comes back to haunt her. As Beau does his best to keep Lily safe, they discover that maybe they don't dislike each other quite as much as they thought.
In fact, maybe it's just the opposite…
My review:
I loved, loved Bound to the Bachelor! If this book is an indicator of what the whole series will be like I can't wait for the rest!
The main characters, Lily and Beau, are strong, memorable characters. Lily in particular evoked powerful emotions in me. She is such an awesome lady, one I would love to know! Lily exudes strength, she is independent, has a heart of gold and is very admirable. She has been through so much but still powers on and maintains her caring self. I just loved her! Beau was a bit harder to get to know, but I think that was because I felt like I came to know Lily so well. I love how protective he is of Lily, even if they are both fighting an attraction, and he doesn't judge her.
Lily and Beau have a history through his sister who is Lily's best friend, so the speed of their relationship once they started was believable. They definitely are not strangers just starting out. It was fun watching them on their journey, neither sure what they or the other wanted. I love how Sarah brings them together in a way that feels real. Their chemistry is off the charts from the start, and there are some very steamy scenes that are appropriate to the plot.
Sarah manages to surprise in the plot with a few unexpected twists that add an even more intense feel to an already powerful book! She fits in a lot of detail smoothly in this novella without overdoing it or making things feel rushed.
Montana Born Bachelor's promises to be a fun, unique series and I'd definitely recommend Bound to the Bachelor to any romance reader looking for an enchanting, emotional read that will make you laugh and cry.
5/5 awesome stars!!