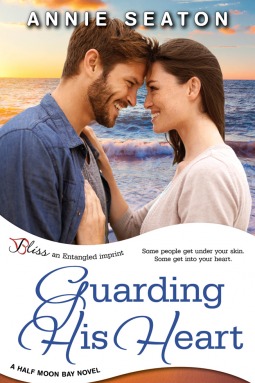 In
Guarding His Heart (Half Moon Bay #3) by Annie Seaton
, Liam is a best selling adventure book author who has lost his muse following tragedy and scandal. He just wants to be alone, to find peace and to find his muse. When he purchases an old house in Half Moon Bay, he expects to find the isolation he craves there. "All he wanted was a place where he could lick his wounds and think about his future."
Half Moon Bay is not a place where people leave you alone though...they like to be neighbourly, and they like to know everything.
Georgie is planning to leave Half Moon Bay, to be independent and find adventure. Thoughtful, caring and fun loving, after one too many failed relationships she is determined there will be no more men in her life. Despite feeling so at home in Half Moon Bay, Georgie has decided it's time to move on. After one last job as a favor to a friend. A construction worker, her last job is to build walls of bookshelves in an old home. The home that just happens to be the one Liam has bought and moved into.
From the moment Georgie sets eyes on Liam, he lights a fire inside of her. Even if he is rude and distant. She'll be working in his home, but she's determined not to let him get under her skin. For Georgie, Liam is a distraction that she is sure will only end in more heart break. For Liam, Georgie is a distraction...in the hottest, sexiest way. One he doesn't want either. He trusted before and look where it got him.
But they can't avoid each other forever. Working in close proximity, it's impossible. And the most determined residents of Half Moon Bay are set in their match making ways. They both have broken pieces, will they find the trust to heal together? Or will Georgie leave on her adventure, not sure where she's going or why?
All about trusting yourself, your heart and risking opening your heart again, Guarding His Heart is all about two people struggling to move on from the pain of their pasts. If they can get past that, Georgie and Liam could make a great couple. They do have a connection and strong feelings for one another, even if they are not honest about it to themselves or each other. I found Georgie harder to get to know than Liam, as well as a lot more dramatic. She might seem a bit self centered, but I didn't get the feeling she was really that way, it was a combination of events in her life that has led her to today. There is a lot of push and pull between Georgie and Liam, and the start of their relationship is not an easy one. I enjoyed their story and the suspense of not being sure how it could end!
I love the small town feel of Half Moon Bay, and all the different characters, some of whom are highly amusing!! Guarding His Heart is part of the Half Moon Bay series, but can be read as a stand alone.
Entertaining, heart warming and well paced, I'd recommend Half Moon Bay to contemporary romance readers.
4/5 stars
Purchase from: