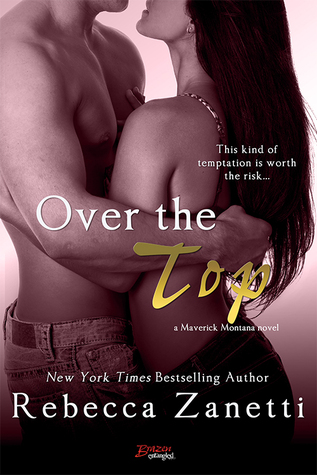 Book Blurb:
Dawn Freeze had a huge crush on Hawk Rain for years, and the entire town knows it. It's understandable―the man is total hotness. That tall, lean body. Intense dark eyes. And always one foot out the door. Now he's on leave for exactly one week. And this time, he's made it crystal clear that he only wants one thing. Her.
Hawk's been fighting his attraction to Dawn for as long as he can remember. She's his best friend's little sister, and that means hands-off. Except now she's all grown up, and her sweet sexiness is exactly what he craves. But just as Hawk allows himself one mindblowingly intense night with Dawn, he learns that everyone he loves is in danger. Especially her.
And the only way to protect Dawn is to push her away...
Over the Top is forbidden romance with a strong suspenseful underlying plot. Hawk has been fighting his attraction to his best friends sister for what feels to him like forever. Dawn was spurned once by Hawk, but she's never stopped wanting him. Now Hawk is back in town, the old folk are meddling, and danger is lurking.
There is a lot of push, pull, and intense emotion sparking between Dawn and Hawk. It was easy to feel like I was right there with them, watching the sparks fly! I liked how they came together, but at times it felt like neither of them was really ready for the other because of the push and pull between them. I was happy when Hawk decided to just go for it with Dawn, despite his misgivings. The fact that they have a background together made the speed of the relationship when they did move on it believable.
Hawk kept part of himself tucked away for a while, but eventually talks to Dawn about himself, what he does, and what he fears. I liked that about him. He is very protective not only of Dawn, but of everyone he considers his family. I felt that Dawn was not really understanding of the scope of the situation with Hawk and at times this made me feel frustrated with her. As grown up as she is, she is still quite young. Sometimes heroines just need to accept that they are not superwoman.
The suspenseful part of the plot was intriguing and Rebecca did a good job of keeping me wondering what would happen for much of the book.
I loved the secondary characters, especially Dawn's family and the older match making ladies in town! The family felt real, and I liked how they were with each other. The ladies provided high entertainment!
I'd recommend Over the Top to romance readers who like suspense woven in to a strong, tension filled romance!