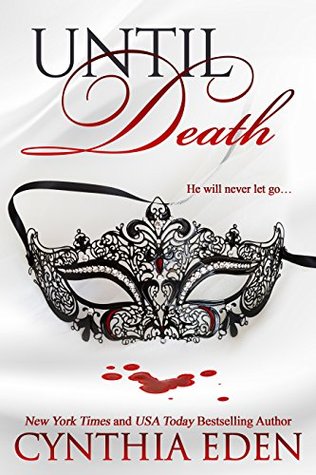 Book Blurb:
When Ivy DuLane witnesses a murder during the madness of Mardi Gras, she enters a deadly cat and mouse game with the killer. The city has gone wild with the annual celebration, and Ivy has to rely on sexy homicide detective—and her ex-lover—Bennett Morgan for help. But with every moment that passes, the killer grows bolder, and the body count starts to rise. It soon becomes very hard to tell the innocent from the guilty…especially since Bennett is keeping dark secrets of his own.
UNTIL DEATH…a hot new romantic suspense novel from New York Times and USA Today best-selling author Cynthia Eden.
My Review:
I really enjoyed this fast paced romantic suspense set during Mardi Gras! Ivy and Bennett have a history, and just as he comes back for Ivy, someone evil also now wants Ivy. As the intensity of their relationship grows, so does the danger...and Bennett is determined to keep Ivy safe, because unknown to her she was also his salvation. Ivy is just as determined that she can keep herself safe, and their is all kinds of intriguing tension between Ivy and Bennett in Until Death.
Ivy and Bennett have both changed since they were together before...but the feelings haven't. Can Bennett keep Ivy safe, flush out a killer, and have a second chance with Ivy? I really liked both of these strong characters and I felt like I got to know them without feeling rushed.
I loved the twists and turns in Until Death, and couldn't put this novella down. Cynthia Eden does a great job of weaving romance and suspense so that they intertwine and move easily with the plot.
I'd recommend Until Death to any romantic suspense reader!
5/5 stars
Purchase from Amazon.com