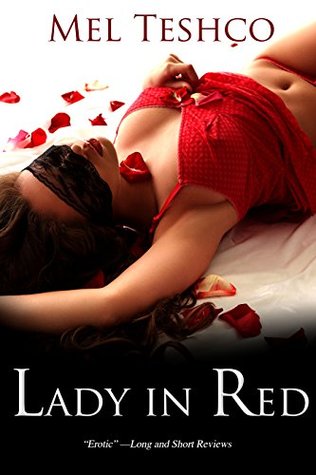 Book Blurb:
Bullied and battered as a child, Kate Matthews grows up and transforms herself into beautiful and confident, Brandy Alexander, a sexy, high-class call girl. With a select number of rich and successful clients and a jaw dropping income, Kate feels like she's living her dream being desired and bedded by some of Australia's most powerful and influential men. But she has one rule. Don't fall in love. Except the more time she spends with her favorite client Blaine Waymann, the more she fears he might be the one man who could topple the perfect world she's built.
Billionaire philanthropist Blaine Waymann is determined to break Kate's rule. He wants exclusive rights to Brandy and Kate, in bed and out, and is willing to risk everything to win her body and her trust. But when Kate starts opening her heart to Blaine, she faces an agonizing decision. Run like she always does, or stay with the man she not only lusts after, but loves.
In Lady in Red by Mel Teschco, the characters pulled me in to a believable plot. I felt like I got to know Kate, and I really felt for her. How she has moved forward in her life is different, but it's what works for her. Or so she tells herself, but does it really? She finally feels valued and desirable in life, but is the temporary nature of it enough? Secretly she craves more, but is afraid to let herself hope or trust. Mel Teshco writes Kate's character well, and I felt like she was well defined because we knew her past and her present...her future is the question. I liked Kate, and even though I found her a bit frustrating at times, I could understand her.
Blaine has wanted Kate from the moment he laid eyes on her...and not just in the context of her job. He really pursues her. It had the potential to be stalkerish, but both of these characters had feelings for each other, so it really wasn't. I like how he sees so much more in Kate than she sees in herself, and I like how the issue of her job is there but it's not the big issue.
How Kate and Blaine come together is unique...but how will they end up?
I liked how Mel wrote Lady in Red. There are sex scenes, but not over the top, and they are completely relevant to the plot line in many ways. The secondary characters are interesting, and I liked how Blaine's mother was brought into the story.
The pace of Lady in Red has good flow to it, and it was easy to keep reading as Kate tried to overcome the obstacles blocking her future. A steamy, emotional read, I'd recommend Lady in Red to any romance reader.