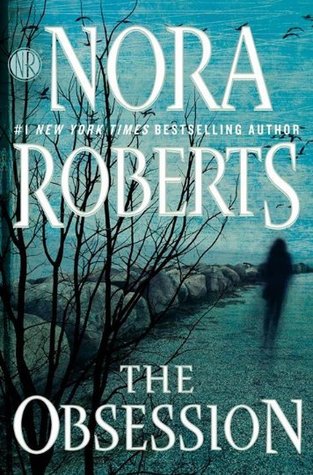 Book Blurb:
The riveting new novel from the #1 New York Times bestselling author of The Liar.
Naomi Bowes lost her innocence the night she followed her father into the woods. In freeing the girl trapped in the root cellar, Naomi revealed the horrible extent of her father's crimes and made him infamous.
Now a successful photographer living under the name Naomi Carson, she has found a place that calls to her, thousands of miles away from everything she's ever known. Naomi wants to embrace the solitude, but the residents of Sunrise Cove keep forcing her to open up—especially the determined Xander Keaton.
Naomi can feel her defenses failing, and knows that the connection her new life offers is something she's always secretly craved. But as she's learned time and again, her past is never more than a nightmare away.
My Review:
Nora Roberts took me right into the life of Naomi Bowes in The Obsession. I loved how she really starts The Obsession and moves forward from there to show just what an incredible, tragic journey Naomi has been on. Naomi is haunted by a past she can't seem to escape. When she finds herself in Sunrise Cove, things finally seem to start settling for her. She feels at home and more peaceful than she has since she was 12 years old. Naomi is a loner by nature and circumstance though, and in Sunrise Cove she suddenly finds it hard to really stay alone. People like her, she's making friends, and a handsome man of all trades is mesmerized by her.
She's not sure if she can stay. Keeping her past a secret is impossible when a murderer is striking so close to home, in safe Sunrise Cove. Is it coincidence or is it tied in with Naomi's past?
I liked Naomi a lot. From where she's been to where she is now has taken courage, perseverance, and hope. I love what she does for a living too!! Nora's descriptions of that made me want to pick up my camera again and start clicking! I understood Naomi's need to keep her secrets, and I respected that. When confronted about it though, she doesn't deny or defend. She stands her ground on the outside, but on the inside wants to run. I really, really liked Xander! He is so patient, protective, and through out The Obsession his feelings for Naomi keep growing. I liked them together, it was a cautious, lets go slow relationship with no angst.I liked the build of the relationship between not only Naomi and Xander, but between her and the town. Especially Jenny who just embraces Naomi from the start. All of the characters I met played a role in The Obsession from the good to the bad, and they were all fascinating. By the end of The Obsession I felt like I could live there!
The suspense is skin tingling and frightening at times, to think that there are people out there like that. The POV's on this side of the story were very insightful into the mind of a serial killer...scary stuff!! I liked how the suspense was written in, dramatic and fearful but not in a way that made it the main focus of the book. When the worse happens, will good outshine evil? Will Naomi have found a place to belong and someone who accepts who she is, or will someone evil stop all hope of that?
I liked how it was all woven together with Nora's easy to read, well paced and smooth writing style. There is strong character and plot building progressing as the story moves along, and I felt a riot of emotions as I was reading. This is a book I couldn't wait to get back to, wondering what was happening next!
Nora Roberts had my skin chilling, made me laugh, teared me up, and left me feeling so good in my heart that I am at a loss because nothing could be better than The Obsession!! I would highly recommend The Obsession to any romance reader!!
5/5 solid stars!!