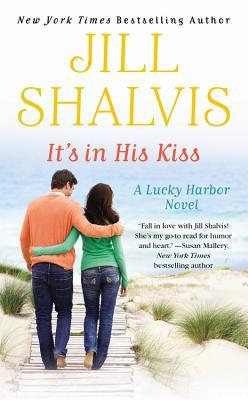 In It's In His Kiss (Lucky Harbor #10) by Jill Shalvis, Becca has always carried a lot of responsibility. Now this city girl who writes jingles for commercials is finally getting away, and she's taking it one day at a time. Becca ends up in Lucky Harbor and decides to stay for a while. She's ready to try new things and have more fun!
Becca ends up renting a place to live in a converted warehouse...right beside Sam's warehouse where he builds boats. Sam also has a business with his friends, he surfs, and he is one sexy man! Becca is mesmerized from the moment she first sees him, and is not above doing a little peeping through her curtains. There is a sizzling connection between Sam and Becca, and after one night with him, Becca would like more. But when Sam hires her for his business, he is determined not to mix business with pleasure. Becca is not quite as determined...
In different ways, neither of them has had an easy childhood. They each have pasts they've grown from but still struggle with. Neither is looking for forever, but the lure of small town Lucky Harbor makes Becca want to stay. When everything Becca is escaping from finds her, she will have to decide where her future is. And will Sam be part of it?
I loved being back in Lucky Harbor! Jill writes small towns and romance so believably. Becca and Sam are both realistic, mature characters whose opposites complement each other very well. I love the laid back, fun, spontaneous Becca that Jill introduces us to. I like that the focus is on who she is now and what she's doing now. Jill gives us enough background to get to know Becca very well without clogging up the present day plot with her past. Becca seemed to grow and become stronger with each page read. Sam is easy to picture in my mind thanks to Jill's (and Becca's!) descriptions. He's serious, focused and dependable. He obviously cares a lot for Becca and demonstrates it well even if he can't say the words. I like how Jill weaves his relationship with his father in, because this is very much part of Sam's present. Once again not overwhelming, but a necessary part of the plot, giving another aspect to the characters in It's In His Kiss.
Of course there are some secondary characters we've seen before in the Lucky Harbor series, and I loved seeing them again. (Especially Lucille and her antics!) I loved the interactions and relationship between Sam and his friends, they add a lot of fun to It's In His Kiss!
Jill writes entertaining, well paced romance that sizzles at times and makes my heart feel good all the time. I was hooked from the first page, and I couldn't wait to see how Becca and Sam would end up.
Although part of the Lucky Harbor series, It's In His Kiss can easily be read as a stand alone (although I do recommend the whole series because it is so good!). With laughter, love, and dreams, I'd recommend It's In His Kiss to any romance reader.
4/5 stars